Accounting Opportunities Experience

Feel the Power of CPA
As the backbone of the business world and the real heroes when it comes to protecting the financial health and vitality of individuals, communities, companies and economies, certified public accountants (CPAs) are essential and perform rewarding work.
Accounting Opportunities Experience is a collaboration between state CPA societies and the AICPA to raise awareness of accounting career opportunities among high school students.
So we are making an opportunity to call attention the countless and diverse career opportunities for future CPAs... for the entire month of November!
Career possibilities may be far from what you imagine. Many CPAs work in accounting firms and enjoy varied assignments with a wide mix of clients, but CPAs also work in any and every kind of business and industry — both public and private sectors. They are some of the most important decision makers in their organizations and for their clients. They may analyze business systems, improve operations and directly advise on strategic plans; they may investigate financial crimes on behalf of their clients; or they may help people manage their personal finances. A CPA's education, experience, examination and ethics lay a solid foundation for a successful career in accounting and finance.
Montana's Accounting Opportunities Week in 2022 was held November 7-11th, and was officially proclaimed by the Governor! We intend on continuing this sanctioned event each year, and gather more interested high school teachers and CPAs.
If you are a high school teacher who would like to request a CPA come to your school/class - please email Erinn at erinn@montana.cpa to get something scheduled!
Need Some Direction?
We'll help you navigate!
Accredited Instiutions
Career Guidance
What and How-To's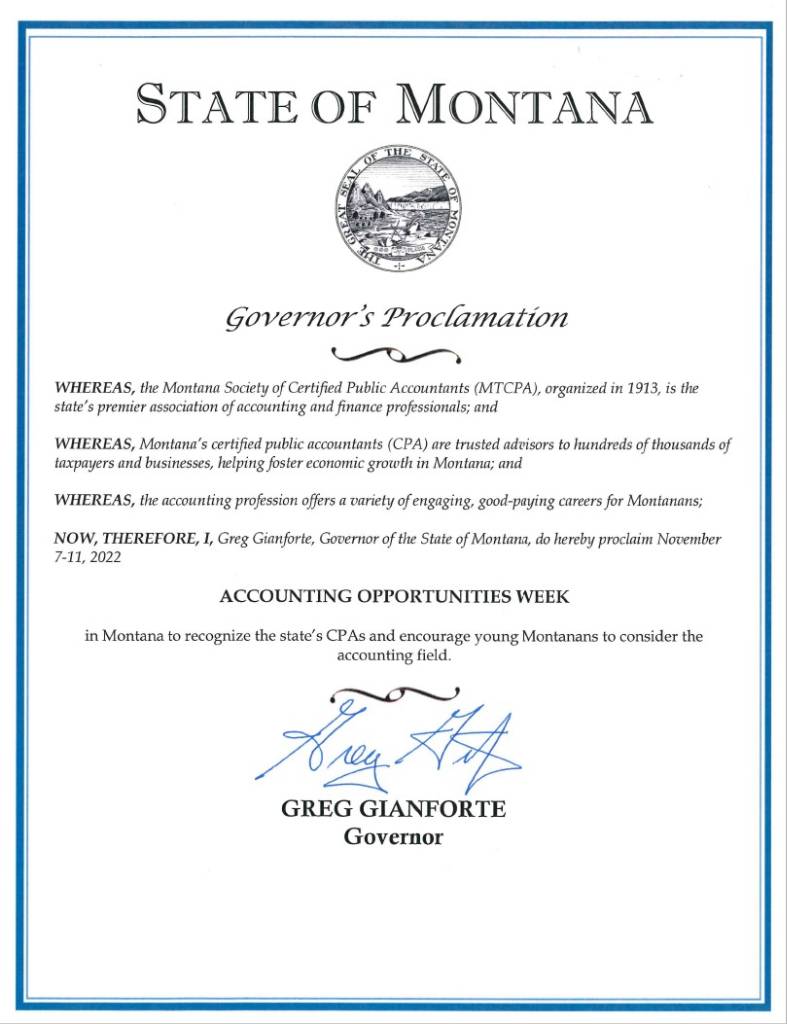 Where will the CPA designation take you?
Audit
Financial Forensics
Information Technology
Business Valuation
Personal Financial Planning
Tax
Management Accounting